Friday, July 2nd, 2010
Howdy folks!
Here we are for another addition of RWB Tour Journal broadcasting live from Buckeye Donuts in good ol' Columbus Ohio. We are enjoying some delectable deep fried treats and reliving our late spring/early summer adventures. Grab yourself a Long John and join us!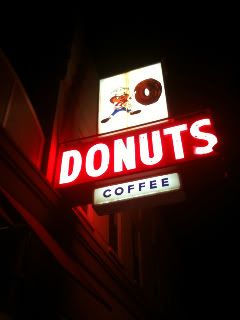 This picture is from a memorable evening in May. Here we are in Manhattan Illinois at the Double Deuce (Yes, the name is in honor of the Patrick Swayze blockbuster Roadhouse). Our rowdy cohorts from Kemp's Upper Tap in Lexington brought their party bus for us to pose on after the show.
We've made our way back up to Marquette Michigan to join in the festivities of our favorite sound man/front man/beloved friend Chris and his lovely lady Renee as they tied the knot. The polka band that was hired to play the wedding cancelled last minute for a better paying gig at a wiener festival, so we filled in.
The lovely bride and ruggedly hansom groom, a couple of good looking seamen….
Upfront and Company Bartenders love RWB….. We've also hired them to be our official clothing line models.
Greg Rahm: still second chair chapman stick…
We hesitantly followed some drunk yoopers down a path, over a fence and on to private property to see the mystical man in the woods. Our lives will forever be changed…
Family photo at the Black Rocks
Scott Terry school of driving – Stay well hydrated, always have ear protection, and always keep a snack on hand incase of low blood sugar. Happy Birthday Scott!!!
Here we are at the world…famous….RATHSKELLER!! Thank you Dan for your entertaining and informative introductions! (notice Marcus riffing in the background)
Dean in Burlington Iowa with a light-up sword and a carney!!
Here is the first installment of the "sleep of the week" pic's.
This weeks winner is "Tuckered out in Texas" shot by Dean Anshutz!
The rhythm of love.
We brake for dinosaurs.
Sometime you get the bear and sometimes the bear gets you. Scott and the Bear get each other…
Busted.
We went to our first Native American Pow-Wow and got this sweet blanket, and then laid on it in the grass….
A Fathers Day gem sent by the Flack family from Denver Colorado.
Thank you all for joining us once again for another exciting edition of RWB's Tour Journal. We look forward to seeing all of you this summer. Remember kiddies, wear a sufficient SPF when in the sun and no swimming right after eating!
Posted by: erichall
Categories: Tour Journal, Tour Journal 2010